Are You Planning for Delhi to Agra - Agra is the ancient city of India which is known all over the world for its majestic beauty- Taj Mahal. The grandeur of Taj Mahal attracts the people from different nations of the world. Other than this the city is known for its mesmerizing architecture including the forts and tombs.
Agra has been very popular, right from the Mughal Empire. It is said to be the haven of Mughal Architecture, Arts and Culture. Each architectural heritage located in Agra has its own story behind its construction. The most popular monuments in Agra include the Taj Mahal located on the Banks of Yamuna River, Agra Fort build by Akbar, Mehtab Bagh which is the popular Garden situated next to the Taj Mahal, Tomb of Sikandra, Tomb of Itimad-Ud-Daulah and Fatehpur Sikri.
In addition to this, Agra is a popular shopping spree among the tourists. If you visit Agra, you cannot avoid its markets. In the markets of Agra, you can find a number of items which can be kept by you as souvenirs. If you love to buy clothes and shoes, you will find a large number of options in Agra.
Agra is well connected by road from Delhi. The total road distance between Delhi and Agra is 230 Km. If you wish to have a comfortable journey from Delhi to Agra, one must opt for a cab.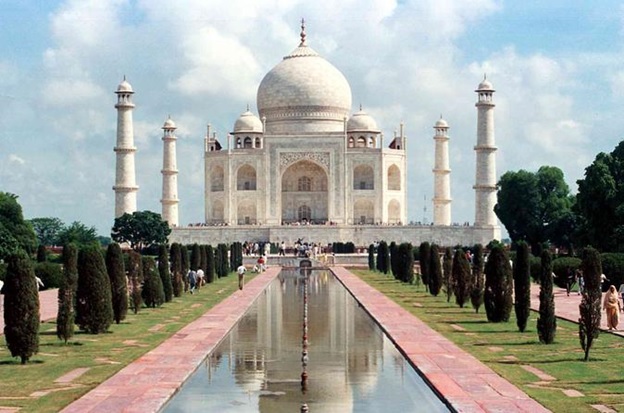 The two cities are connected by a fast six-lane expressway-the Yamuna Expressway. The total distance can be easily covered in two and a half hours. The road journey from Delhi to Agra offers beautiful sights and eateries. One can enjoy the beauty of vast farmlands on both sides of Yamuna Expressway and can enjoy great food as the route consists of some of the popular eateries and Dhaba including Bikano, Subway, Costa Coffee and Slice of Italy. Additionally, there are a number of rest points where you can relax for some time.
The city of Agra further offers a large number of options for foodies. The food of Agra is heavily influenced by the Mughal Culture and is a food paradise for non-vegetarians. You can try a large number of Kebabs and Tikka once you visit there. Petha and Dalmoth are other food items which are very popular in Agra. Chat Street in Sadar Bazaar is a great destination for food lovers as you can find a number of snacks ranging from Chat to Golgapas and many more
So, are you looking for a luxury and affordable cab service, for your trip from Delhi to Agra? Mapcabs have varied options to make your journey comfortable. We have a large fleet of cabs ranging from Hatchback to Tempo Travellers. You can select the cab which suits your budget, comfort and group size. We offer comfortable cabs for foreign travelers as well. All the drivers of Mapcabs are quite professional and committed for the travelers. They have a good knowledge of the entire route from Delhi to Agra and also have information about different sightseeing places within the city.
You can book your cab from Delhi to Agra by logging on to our website www.mapcabs.com. You just need to enter the origin and destination along with your date and time of travel and return. Once the advance payment of 20 % has been done, your booking will be completed and we will be there at your given date and time to begin a hilarious journey from Delhi to Agra.
Customer can also can book a cab from Delhi to Agra Delhi to Alwar, Delhi to Amritsar, Delhi to Dehradun, Delhi to Roorkee, Delhi to Haldwani, Delhi to Haridwar, Delhi to Narnul, Delhi to Rudrapur, Delhi to Manali, Delhi to Mathura, Delhi to Meerut, Delhi to Jim Corbett National Park, Delhi to Moradabad, Delhi to Mussoorie, Delhi to Nainital, Delhi to Pilani
Check out some handpicked articles: